GXportal SaaS account management from the backend
When a customer purchases a GXportal SaaS plan, a payment is confirmed with a previous approval in Paypal for automatic monthly payments through Paypal, without the need for yearly renewals.
The benefits implied for customers include:
The possibility to cancel subscriptions anytime
The possibility to change to a different plan directly from the GXportal backend
The possibility to activate or deactivate functionalities directly from the backend
The possibility to add backend user licenses also from the backend
Upon cancelling a payment profile in Paypal the customer's access to the site's backend will be automatically restricted and a screen will be presented for renewal or for changing to a different plan, including the possibility of the free plan. The same occurs when Paypal payments fail for whatever reason.
When payments are cancelled the site continues to be online for a term of 10 days following the cancellation. After this period, it will be set offline automatically if no actions have been taken.
The control panel offers the option to access "My account" statement to view information on Paypal payment profiles for both the site and premium functionalities as well as the option to make changes to different plans with more functionalities.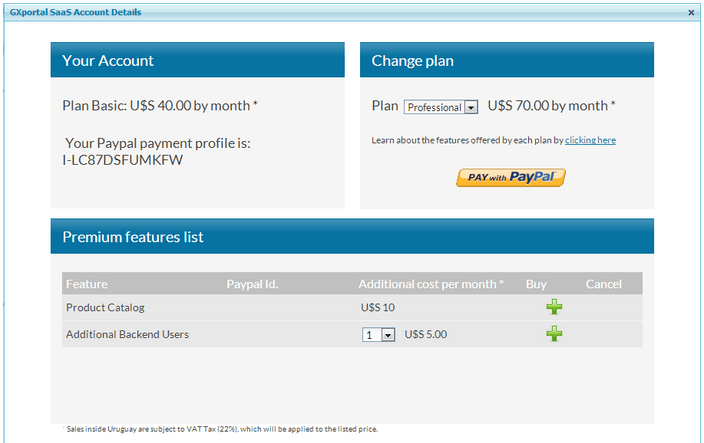 Ver más:
[[10936996]]
¿Cómo cambiar de plan?
[[10936990]]
!link deleted!
!link deleted!
!link deleted!